All of our prices are quoted on our price list and include electric hook-up and use of the toilet and shower facilities. We do sell tokens for our washing and drying machines.
Do you allow BBQ's?
We do allow BBQ's on site, however they must be raised above the grass. We do not allow camp fires.
What facilities do you have for children?
We do not have play areas or play equipment for children on site; however the Riverside Meadows next door to Bridge Villa and the Crowmarsh Gifford Playing Field and Playground opposite are open for public access and recreation.
A public outdoor paddling pool is located opposite as well as a heated outdoor swimming pool which is open from May to September.
Do you allow ball games on site?
For the comfort and enjoyment of all of our guests, we do ask that ball, throwing or racquet games are not played on site. As mentioned above, there are lots of open areas close to the site where ball games can be played.
Do you have a noise policy?
We ask you to respect your fellow campers and caravanner's and do ask that noise is kept to a minimum. Quiet time is after 10.30pm.
What type of things are stocked in the site shop?
Due to the small size of our shop, we have taken the decision not to stock our shop with general/basic provisions this year.  Ice Creams, Calor gas and Camping gaz cylinders, regulators, Elsan fluid, charcoal and logs are available.
Waitrose supermarket and KP stationers, which sells newspapers and basic provisions are a short walk over the bridge.
We also keep a selection of tourist information leaflets.
Waitrose is located a short walk over the bridge in Wallingford. Wallingford is also home to many independent, specialist shops and pop up shops.
Where are the nearest pubs & restaurants?
Wallingford has a rich selection of pubs, restaurants and café's all within walking distance of the site.  Please ask us for recommendations.
Do you allow dogs?
Dogs are welcome at Bridge Villa – A maximum of 3 Dogs per pitch during Low  Season and no more than 2 Dogs per pitch during Mid, High & Peak Seasons. They  must be kept on a lead at all times and please ensure that they do not cause a noise or nuisance to our other customers.  We ask that you do not allow your dog on to any pitch other than your own and that you walk your dog off -site in adjacent field/rivermeadow.
Do you have recycling facilities?
Yes, we do offer recycling facilities for mixed dry and clean recyclables (paper, cardboard, plastics, and cans). We also provide separate bins for bottles. Refuse/recycling points are located throughout the park.
Do I need to book in advance?
We do require all bookings to be made in advance. Full payment is required to confirm the booking but please call the office to discuss any exceptions outside of our standard terms.
Why do I need to stay for 2 nights at a weekend or 3 nights during a bank holiday weekend?
Most of our customers prefer to stay for 2 nights at a weekend or 3 during a bank holiday and as we have a limited number of pitches they would not be able to do so if we had lots of one night bookings.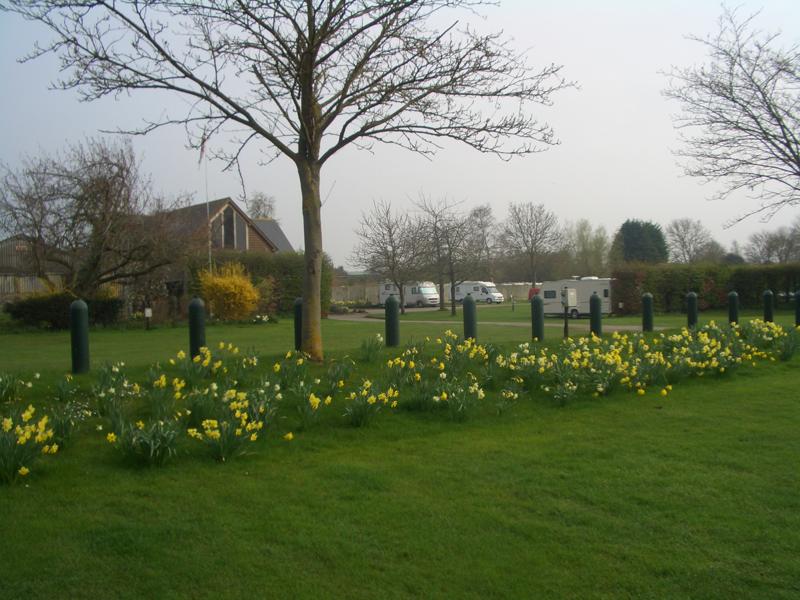 Do you have the facilities to freeze ice packs?
We are able to freeze ice packs in our shop. Please ensure that your ice packs are clearly named. We do make a small charge for this.
When is the earliest that I can arrive?
Your arrival time is after 12 noon this is to enable us to ensure that your pitch is ready for you.
When is the latest that I vacate my pitch?
We request that you vacate your pitch by 11am.  At certain times, we are able to offer a late departure (up to 5pm) for an additional £5.  Please request at the time of booking.
Can we bring an extra vehicle on to site?
We do not have a car park and our pitch sizes allow for one vehicle to be parked alongside your tent or caravan. Extra vehicles will be allowed on site at our discretion depending on the availability of space. Please note that an extra vehicle would include trailers etc.  An additional vehicle charge would be applicable.
Where can I purchase fishing permits?
Fishing permits (day tickets and season tickets) are usually available from our shop.
Are there transport links nearby?
Excellent bus transport links are available from Crowmarsh Gifford and also from Wallingford marketplace.  We do have timetables available or please see the website for Thames Travel.  There are several railway stations located a short drive from Bridge Villa (Didcot, Cholsey or Goring).
Privacy Policy
Our website and administrative systems comply with the General Data Protection Regulation (GDPR) 2018.
We take your privacy very seriously and only collect personal information in relation to our dealings with you as a customer and your specific booking(s) with us.
We retain your information on a secure database and do not provide data to any third party, or use your contact details for marketing purposes. These details are restricted to name, address, telephone number, email address and booking requirements. Credit and debit card details are not stored, they are used to process your payment and then destroyed.
Under the Data Protection Act 1998, you may request details of personal information we hold about you. If you would like a copy of the information we have, please write to us at: Bridge Villa Camping and Caravan Site, The Street, Crowmarsh Gifford, Oxfordshire, OX10 8HB.
Please contact us if you have any other specific questions regarding your stay.